Aveda's Madder Root Conditioner
So. This stuff is magic. It's a conditioner that has plant dye extract in it, so when you use it, it temporarily dyes your hair.
MAGIC.
Especially when you're me and have never put color in your hair because a stylist scared the eff out of you when you were thirteen and asked for highlights because she refused to do it and told you that if you ever colored your hair you would ruin your life.
For real. That happened.
But, the thing with this conditioner is that it only enhances your natural color. So, since my hair is on the redder side of auburn, it makes me look like a legit ginger instead of a reluctant one.
HOORAY, MAGIC CONDITIONER.
Chris Pratt, Chris Pratting Around With Baseballs.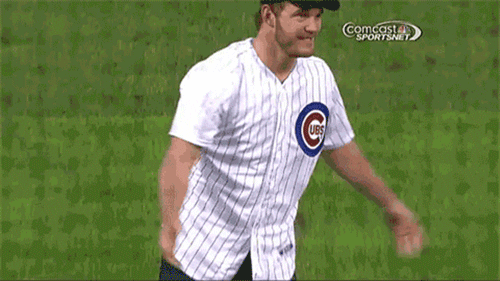 He's adorable. My eleven-year-old stepsister has a crush on him and I congratulated her on her good taste and then told her to never discount the goofy, funny guys in high school because they will undoubtedly turn into hot, goofy, funny guys in adulthood.
Football
It's football time! Right as I'm about to move to a different country! LIFE IS CRUEL.
But! I get to go to a high school game tonight and a college game tomorrow! Hooray football!
Making Headlines!
In case you missed it earlier in the week, my second book, MAKING HEADLINES, a companion novel to TAKING FLIGHT, will be available October 7th! But, you can read the first two chapters on Wattpad, preorder, and add to Goodreads NOW!
Happy September, and happy Friday, everyone!